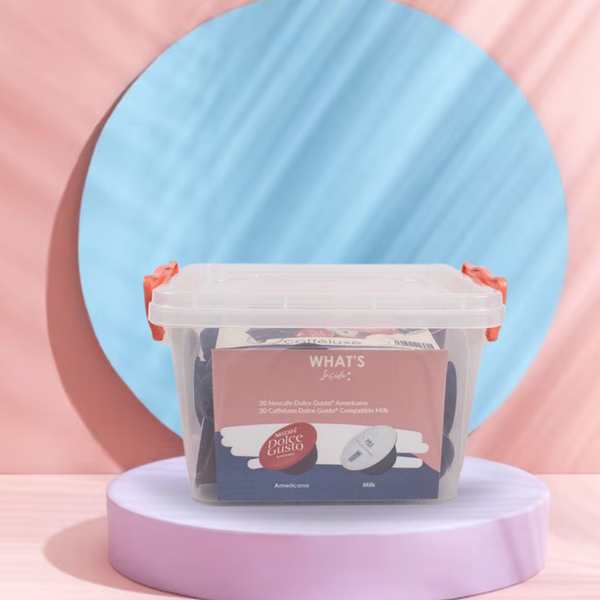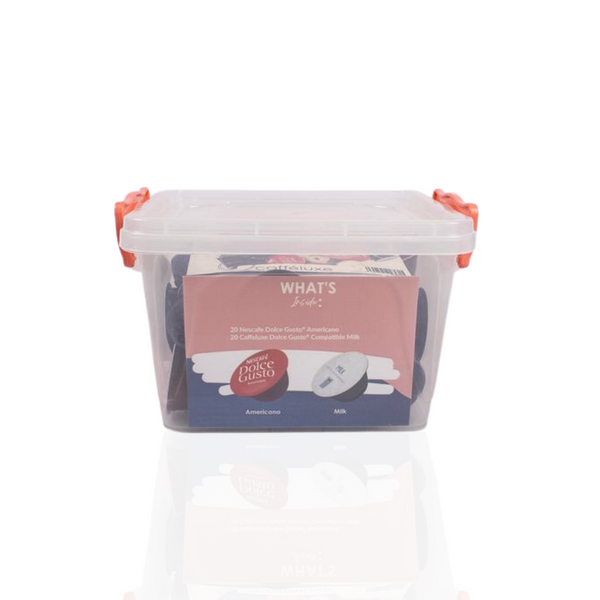 Caffeluxe Americano Cappuccino | 40 Capsules | 20 Drinks | Containers Gone Wild | Dolce Gusto® Compatible
R 229.00
Compatibility
Caffeluxe introduces Containers Gone Wild limited edition reusable plastic containers filled with your favourite's!
 
Savour the perfect blend of bold espresso and creamy, frothy milk with our Americano Cappuccino. Crafted using our premium Americano pods and skimmed milk, this delightful drink offers the best of both worlds.

Indulge in the harmonious combination of strong espresso and frothed milk, beautifully layered to create a classic cappuccino experience. Whether you're starting your day or seeking a comforting pick-me-up, our Americano Cappuccino is the perfect choice. Sit back, relax, and enjoy the exquisite flavours and comforting warmth of this timeless coffee beverage.

PRODUCT
Americano | 20 Capsules
Skimmed Milk | 20 Capsules

Nescafe Americano Dolce Gusto Compatible Coffee Capsules 
These Americano pods deliver a robust and full-bodied espresso base, with a rich aroma and a satisfying kick.
 
Caffeluxe Skimmed Milk Dolce Gusto Compatible Capsules 
Our silky smooth skimmed milk creates a velvety texture and adds a touch of creaminess to every sip.
 
*Images used are for visual representation only. Actual colour of capsules, products & hampers may vary from the images represented in mailers and on the website.
 

COMPATIBILITY
- NESCAFÉ Dolce Gusto Genio 2, Esperta, Minime, Melody, Eclipse, Clrcolo, Drop, Stelia
- NESCAFÉ Dolce Gusto Oblo, Piccolo
- DELONGHI Dolce Gusto Infinissima Sas, Jovia
 
This product has no affiliation with nor is it produced by or recognised by Nescafe or Delonghi
NB : Dolce Gusto capsules are not compatible with any Nespresso machine