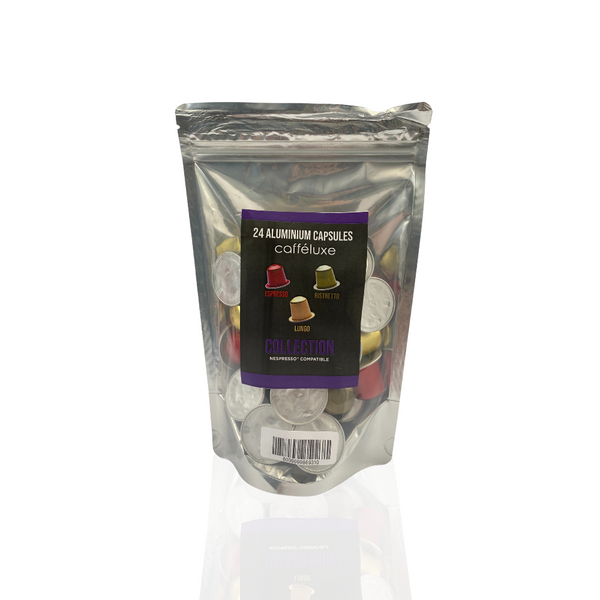 Caffeluxe Mixed Bag | 24 Aluminium Coffee Capsules | Nespresso® Compatible
R 99.00 R 199.00
Compatibility
Indulge in the world of rich and robust coffee flavors with our premium coffee capsule variants. Crafted for discerning coffee aficionados, each of our selections offers a unique and exquisite taste experience.

PRODUCT
Lungo | 8 Capsules
Ristretto | 8 Capsules
Espresso | 8 Capsules
*Images used are for visual representation only. Actual colour of capsules, products & hampers may vary from the images represented in mailers and on the website.
Lungo 
Elevate your mornings with the sophistication of our Lungo coffee capsules. These capsules are designed to deliver an extended, yet perfectly balanced coffee extraction, resulting in a smooth and aromatic cup of coffee. With its mild yet captivating flavor profile, Lungo Elegance is the ideal choice for those who prefer a longer, more leisurely coffee experience. Immerse yourself in the velvety textures and subtle hints of caramel, making each sip a moment of pure indulgence.

Ristretto 
If you crave the intensity of a concentrated coffee shot, our Ristretto Intenso capsules are tailored to your taste. This bold and robust variant is created by extracting a shorter shot of espresso, resulting in a powerful flavor profile that's rich, velvety, and full-bodied. Expect a symphony of dark chocolate notes, a hint of smokiness, and a satisfyingly strong finish. Ristretto Intenso is the ultimate choice for those who appreciate coffee with a punch.

Espresso 
Dive into the classic world of espresso with our Espresso Crema capsules. These capsules are a tribute to the timeless Italian tradition of crafting the perfect espresso shot. With a well-balanced blend of Arabica and Robusta beans, Espresso Crema delivers a harmonious combination of boldness and smoothness. The crema on top adds a touch of elegance and lusciousness to each shot, making it a delightful choice for anyone seeking an authentic espresso experience.

COMPATIBILITY
Caffeluxe coffee capsules have been tested & carefully manufactured to be fully compatible with the following Nespresso and Caffeluxe machines.
- Nespresso U and U Milk
- Nespresso Inissia
- Nespresso Pixie and Pixie Clips
- Nespresso Lattissima, Lattissima Touch, Lattissima Pro
- Nespresso Essenza
- Nespresso CitiZ, Kmix, Maestria
- Caffeluxe Duo, Verona, Sienna, Torino, Milano, Piccolo, Nuvo
 
NB : Please ensure you check the compatibility of pods as stated in their manual. 
 
*Nespresso is a registered Trademark of Societe des Produits Nestle S.A.
This product has no affiliation with nor is it produced by or recognised by Nespresso.