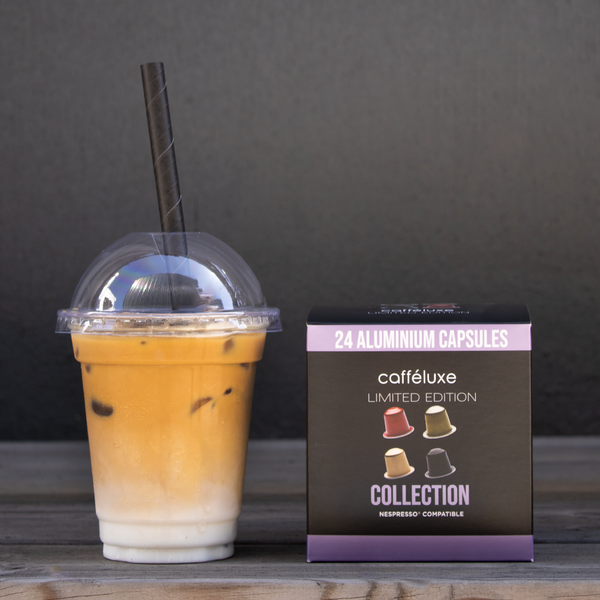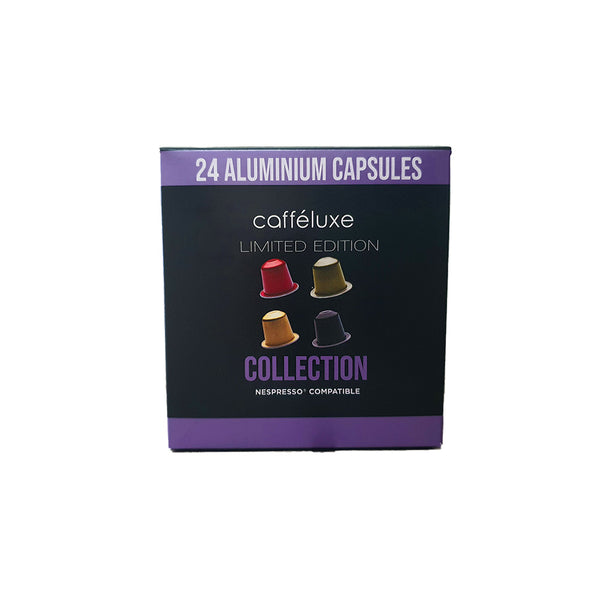 Caffeluxe Collection Box | 24 Aluminium Coffee Capsules | Nespresso® Compatible
R 139.00 R 0.00
Compatibility
100% aluminium is 100% recyclable. It's highly durable, infinitely recyclable and unlike plastic, there's no decay in quality. In fact, over three-quarters of all aluminium ever produced is still in use today.

Because aluminium is so environmentally friendly, it's even known as 'the green metal.'

PRODUCT
Aluminium Espresso Capsules | 6 Capsules
Aluminium Lungo Capsules | 6 Capsules
Aluminium Ristretto Capsules | 6 Capsules
Aluminium Intense Capsules | 6 Capsules

*Images used are for visual representation only. Actual colour of capsules, products & hampers may vary from the images represented in mailers and on the website.

Barrier-Proofing (Taste)
Both compostable and recyclable pods have a huge problem, and that's keeping the coffee they contain fresh. Aluminium is hands down the best material to protect the taste, aroma and freshness of the coffee altogether - it is flavourless, odourless, and impermeable.

Our completely sealed aluminium pods provide a complete barrier against moisture, bacteria, oxygen and light, meaning that not only does your coffee stay fresher for longer, it also stops unnecessary waste.

COMPATIBILITY
Caffeluxe coffee capsules have been tested & carefully manufactured to be fully compatible with the following Nespresso and Caffeluxe machines.

- Caffeluxe Duo, Verona, Sienna, Torino, Milano, Piccolo, Nuvo
- Nespresso U and U Milk
- Nespresso Inissia
- Nespresso Pixie and Pixie Clips
- Nespresso Lattissima, Lattissima Touch, Lattissima Pro
- Nespresso Essenza
- Nespresso CitiZ, Kmix, Maestria
- Nespresso Creatista Plus

 NB : Please ensure you check the compatibility of pods as stated in their manual. 
 
*Nespresso is a registered Trademark of Société des Produits Nestlé S.A.
This product has no affiliation with nor is it produced by or recognised by Nespresso.