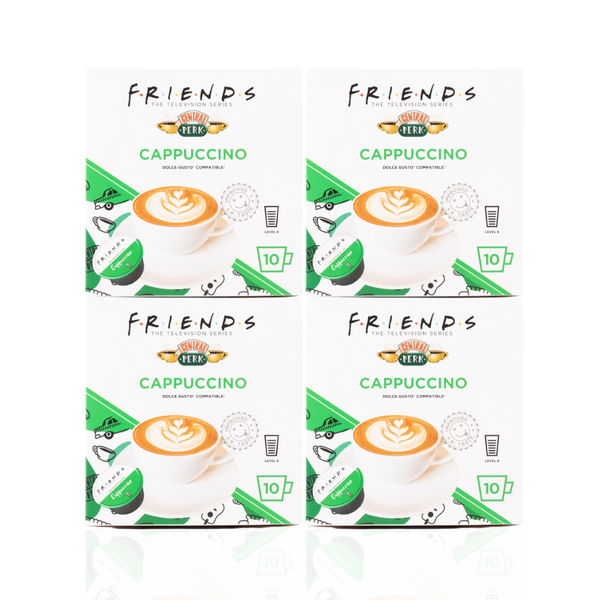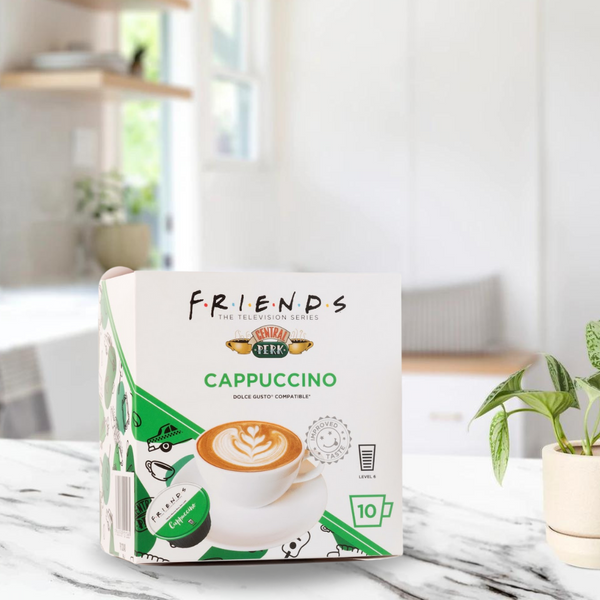 F.R.I.E.N.D.S Cappucino Creme | 40 Capsules | Single Serve | Dolce Gusto® Compatible | Central Perk
R 300.00
Compatibility
This speciality Cappuccino is made with premium coffee and decadent, creamy milk powder. Indulge in a mouth-watering, rich drink that'll have you and your friends coming back for more! 

PRODUCT
 4 x Boxes Cappucino Creme | 40 Capsules

*Images used are for visual representation only. Actual colour of capsules, products & hampers may vary from the images represented in mailers and on the website.

INSTRUCTIONS
Insert the capsule into your 

Dolce Gusto® Compatible machine.

Set the beverage volume to 6 bars (for those models with water measurement) or use 180ml of hot water (for those without)
Stir and enjoy!
COMPATIBILITY
- NESCAFÉ Dolce Gusto Genio 2, Esperta, Minime, Melody, Eclipse, Clrcolo, Drop, Stelia
- NESCAFÉ Dolce Gusto Oblo, Piccolo
- DELONGHI Dolce Gusto Infinissima Sas, Jovia
 
This product has no affiliation with nor is it produced by or recognised by Nescafe or Delonghi
NB : Dolce Gusto capsules are not compatible with any Nespresso machine
*Official Warner Bros Licensed FRIENDS | Central Perk Product
 
F.R.I.E.N.D.S is an American television sitcom created by David Crane and Marta Kauffman, which aired on NBC from September 22, 1994, to May 6, 2004, lasting ten seasons.
 
With an ensemble cast starring Jennifer Aniston, Courteney Cox, Lisa Kudrow, Matt LeBlanc, Matthew Perry and David Schwimmer, the show revolves around six friends in their 20s and 30s who live in Manhattan, New York City. The series was produced by Bright/Kauffman/Crane Productions, in association with Warner Bros. Television. The original executive producers were Kevin S. Bright, Kauffman, and Crane.