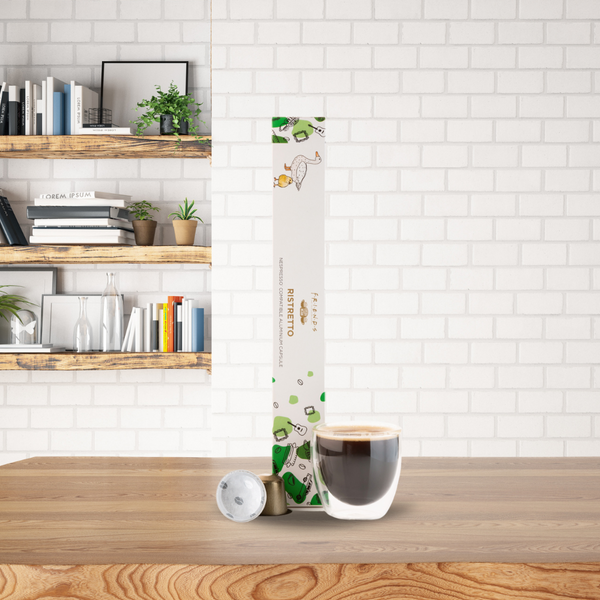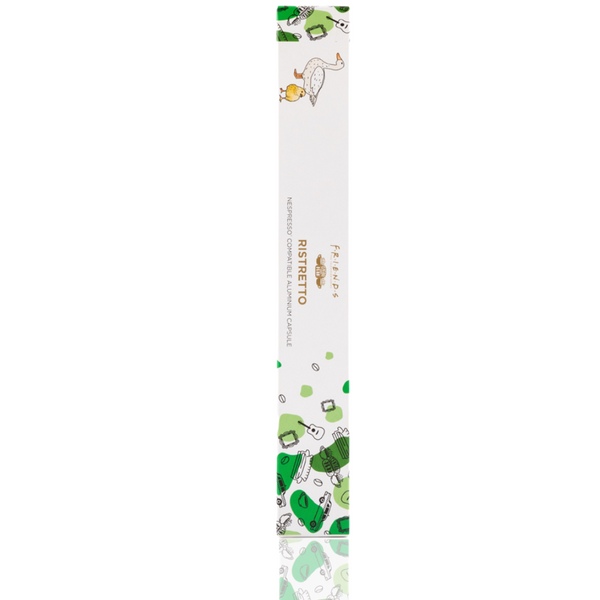 F.R.I.E.N.D.S Ristretto Espresso | 10 Aluminum Coffee Capsules | Nespresso® Compatible | Central Perk
R 79.00
Compatibility
Caffeluxe Central Perk FRIENDS Aluminium Ristretto is a full strength coffee and intensity is in our opinion the best description for our Ristretto. The Ristretto coffee pod consists of heavily dark-roasted Arabica and Robusta coffee beans. This coffee has a deep and intense taste, which comes from the slow caramelization of the coffee beans during roasting. This Ristretto is for those who really want a strong and intense coffee.
Ristretto is the opposite of a Lungo (long), as Ristretto in Italian stands for "short". Compared to a Lungo, a Ristretto is therefore significantly more intense, as it only contains half as much water as a traditional Espresso, but brewed with the same amount of coffee. Ristretto is therefore often served with a glass of water in cafes, so you are not overwhelmed by the taste. However, if the Ristretto should be a little too intense or if you want a larger cup of coffee, you can also brew this pod as a more intense and full-bodied Lungo.

PRODUCT
1 x Box Aluminium Ristretto | 10 Capsules

*Images used are for visual representation only. Actual colour of capsules, products & hampers may vary from the images represented in mailers and on the website.
 
Barrier-Proofing (Taste)
Both compostable and recyclable pods have a huge problem, and that's keeping the coffee they contain fresh. Aluminium is hands down the best material to protect the taste, aroma and freshness of the coffee altogether - it is flavourless, odourless, and impermeable.

Our completely sealed aluminium pods provide a complete barrier against moisture, bacteria, oxygen and light, meaning that not only does your coffee stay fresher for longer, it also stops unnecessary waste.

COMPATIBILITY
Caffeluxe coffee capsules have been tested & carefully manufactured to be fully compatible with the following Nespresso and Caffeluxe machines.

- Caffeluxe Duo, Verona, Sienna, Torino, Milano, Piccolo, Nuvo
- Nespresso U and U Milk
- Nespresso Inissia
- Nespresso Pixie and Pixie Clips
- Nespresso Lattissima, Lattissima Touch, Lattissima Pro
- Nespresso Essenza
- Nespresso CitiZ, Kmix, Maestria
- Nespresso Creatista Plus

 NB : Please ensure you check the compatibility of pods as stated in their manual. 
 
*Nespresso is a registered Trademark of Société des Produits Nestlé S.A.
This product has no affiliation with nor is it produced by or recognised by Nespresso.
 
*Official Warner Bros Licensed FRIENDS | Central Perk Product
 
F.R.I.E.N.D.S is an American television sitcom created by David Crane and Marta Kauffman, which aired on NBC from September 22, 1994, to May 6, 2004, lasting ten seasons.
 
With an ensemble cast starring Jennifer Aniston, Courteney Cox, Lisa Kudrow, Matt LeBlanc, Matthew Perry and David Schwimmer, the show revolves around six friends in their 20s and 30s who live in Manhattan, New York City. The series was produced by Bright/Kauffman/Crane Productions, in association with Warner Bros. Television. The original executive producers were Kevin S. Bright, Kauffman, and Crane.