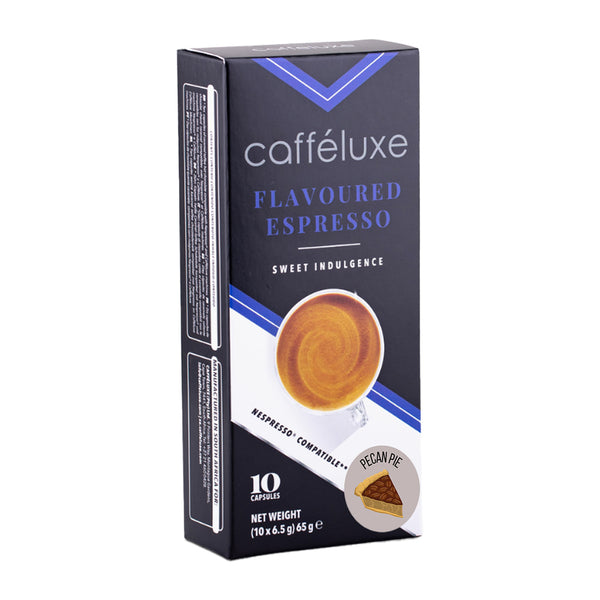 Cafféluxe Signature Pecan Pie Flavoured Espresso l 10 Capsules l Nespresso® Compatible
R 40.00 R 59.00
Compatibility
Our premium Pecan Pie flavored coffee offers a creamy essence of crunchy pecan pie and everything else you could hope for in a single cup of coffee. With the browned-butter and sweet syrupy flavors infused with our finely roasted coffee beans, this version of Pecan Pie will be the best you've ever tasted. 

The essence of roasted golden-brown pecans and the smooth, creamy taste of pecan pie will make you want to gather some loved ones around the table for a classic treat. Don't wait for the holidays to savor this Pecan Pie flavored coffee. Bring back some fond memories of family with our Pecan Pie coffee whenever you wish.

PRODUCT
1 x Box Signature Pecan Pie Flavoured Espresso l 10 Capsules

*Images used are for visual representation only. Actual colour of capsules, products & hampers may vary from the images represented in mailers and on the website.

COMPATIBILITY
Caffeluxe coffee capsules have been tested & carefully manufactured to be fully compatible with the following Nespresso and Caffeluxe machines.

- Nespresso U and U Milk
- Nespresso Inissia
- Nespresso Pixie and Pixie Clips
- Nespresso Lattissima, Lattissima Touch, Lattissima Pro
- Nespresso Essenza
- Nespresso CitiZ, Kmix, Maestria
- Caffeluxe Duo, Verona, Sienna, Torino, Milano, Piccolo, Nuvo
 
NB : Please ensure you check the compatibility of pods as stated in their manual. 
 
*Nespresso® is a registered Trademark of Société des Produits Nestlé S.A.
This product has no affiliation with nor is it produced by or recognised by Nespresso.