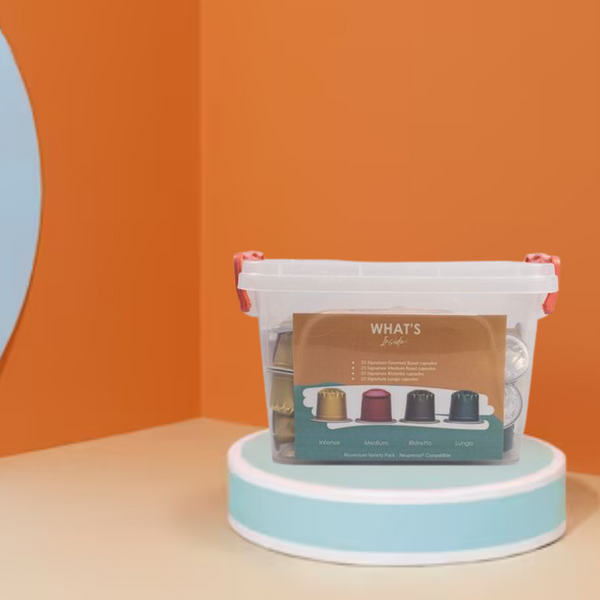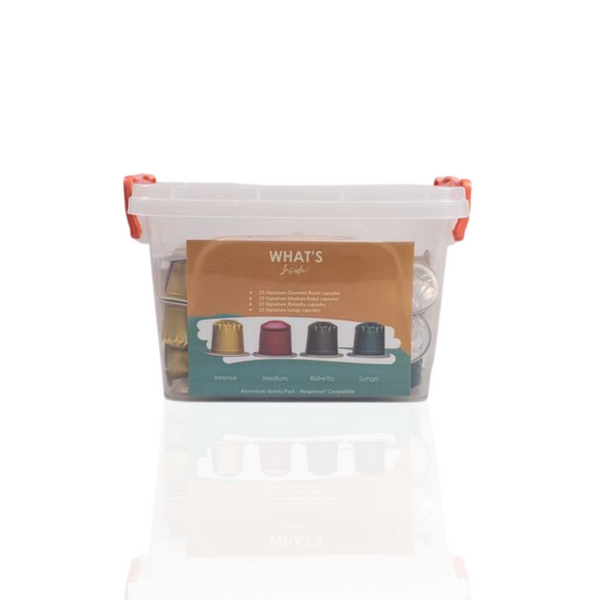 Caffeluxe Containers Gone Wild | 100 Aluminium Coffee Capsules | Nespresso® Compatible
R 449.00
Compatibility
Caffeluxe introduces Containers Gone Wild limited edition re-usable plastic containers filled with your favorite's!
 
Embark on a journey of coffee excellence with our Aluminium Coffee Capsules. This collection showcases a range of captivating flavours, including Gourmet Roast, Ristretto, Medium Roast, and Lungo.

Explore and enjoy a variety of premium coffees that cater to your preferences. Elevate your coffee routine and experience the art of exceptional coffee.
 
Caffeluxe Aluminium Gourmet Roast Coffee Capsules | 25 Capsules
Delve into the deep, rich flavours of our Gourmet Roast, where a carefully selected blend of beans delivers a bold and intense coffee experience.
 
Caffeluxe Aluminium Ristretto Coffee Capsules | 25 Capsules
The Ristretto capsules offer a robust and aromatic espresso with a tantalizingly short extraction.
 
Caffeluxe Aluminium Medium Roast Coffee Capsules | 25 Capsules
The Medium Roast capsules present a harmonious blend that is neither too strong nor too mild, satisfying those seeking a middle ground.
 
Caffeluxe Aluminium Lungo Coffee Capsules | 25 Capsules
Indulge in the indulgent and smooth flavours of our Lungo capsules, which provide a longer extraction for a milder taste profile that remains full-bodied.
 
*Images used are for visual representation only. Actual colour of capsules, products & hampers may vary from the images represented in mailers and on the website.
 
Barrier-Proofing (Taste)
Both compostable and recyclable pods have a huge problem, and that's keeping the coffee they contain fresh. Aluminium is hands down the best material to protect the taste, aroma and freshness of the coffee altogether - it is flavourless, odourless, and impermeable.
Our completely sealed aluminium pods provide a complete barrier against moisture, bacteria, oxygen and light, meaning that not only does your coffee stay fresher for longer, it also stops unnecessary waste. 

COMPATIBILITY
Caffeluxe coffee capsules have been tested & carefully manufactured to be fully compatible with the following Nespresso and Caffeluxe machines.

- Caffeluxe Duo, Verona, Sienna, Torino, Milano, Piccolo, Nuvo
- Nespresso U and U Milk
- Nespresso Inissia
- Nespresso Pixie and Pixie Clips
- Nespresso Lattissima, Lattissima Touch, Lattissima Pro
- Nespresso Essenza
- Nespresso CitiZ, Kmix, Maestria
- Nespresso Creatista Plus

 NB : Please ensure you check the compatibility of pods as stated in their manual. 
 
*Nespresso is a registered Trademark of Société des Produits Nestlé S.A.
This product has no affiliation with nor is it produced by or recognised by Nespresso. 
 
 
NB : Not compatible with Nespresso machines