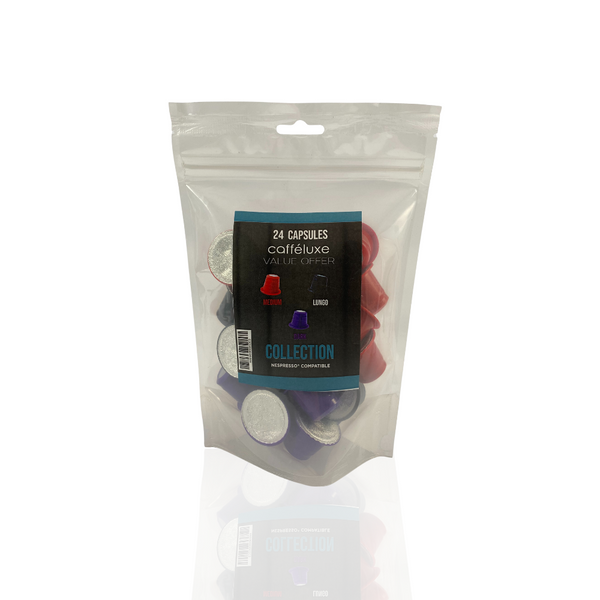 Caffeluxe Mixed Variety | 24 Coffee Capsules | Nespresso® Compatible
R 99.00 R 199.00
Compatibility
Discover a world of coffee excellence with our exceptional coffee capsule variants. Each selection has been carefully curated to suit a range of coffee preferences, from the mild and aromatic to the bold and intense

PRODUCT
Medium | 8 capsules
Dark Roast | 8 capsules
Lungo | 8 capsules

*Images used are for visual representation only. Actual colour of capsules, products & hampers may vary from the images represented in mailers and on the website.

Lungo 
Elevate your coffee ritual with the enchanting Lungo Bliss coffee capsules. These capsules are designed for those who appreciate the art of savoring a longer, more leisurely coffee experience. Delight in the smooth and balanced flavors that unfold with every sip. Lungo Bliss offers a medium-bodied profile with subtle hints of toasted nuts and a delicate, lingering finish. It's the perfect choice for those who seek a moment of pure coffee indulgence.

Medium 
Immerse yourself in the harmonious flavors of our Medium Roast Marvel coffee capsules. Carefully crafted to strike a balance between the bright acidity of light roasts and the bold richness of dark roasts, this variant offers a well-rounded and versatile coffee experience. Expect a cup that's both vibrant and comforting, with notes of caramelized sugar and a hint of citrus. Medium Roast Marvel is the perfect companion for any time of day, providing a delightful caffeine boost without overwhelming your palate.

Dark Roast 
For those who crave the bold and intense flavors of a robust coffee, our Dark Roast Majesty coffee capsules are a regal choice. These capsules are a tribute to the deep, smoky, and full-bodied characteristics of dark roasted beans. With every sip, you'll be greeted by a symphony of dark chocolate, toasted oak, and a velvety, lingering finish. Dark Roast Majesty is perfect for those seeking a coffee with character and a robust kick to start their day or as a bold evening indulgence.

COMPATIBILITY
Caffeluxe coffee capsules have been tested & carefully manufactured to be fully compatible with the following Nespresso and Caffeluxe machines.

- Caffeluxe Duo, Verona, Sienna, Torino, Milano, Piccolo, Nuvo
- Nespresso U and U Milk
- Nespresso Inissia
- Nespresso Pixie and Pixie Clips
- Nespresso Lattissima, Lattissima Touch, Lattissima Pro
- Nespresso Essenza
- Nespresso CitiZ, Kmix, Maestria
- Nespresso Creatista Plus

 NB : Please ensure you check the compatibility of pods as stated in their manual. 
 
*Nespresso is a registered Trademark of Société des Produits Nestlé S.A.
This product has no affiliation with nor is it produced by or recognised by Nespresso. 
 
 
NB : Not compatible with Nespresso machines