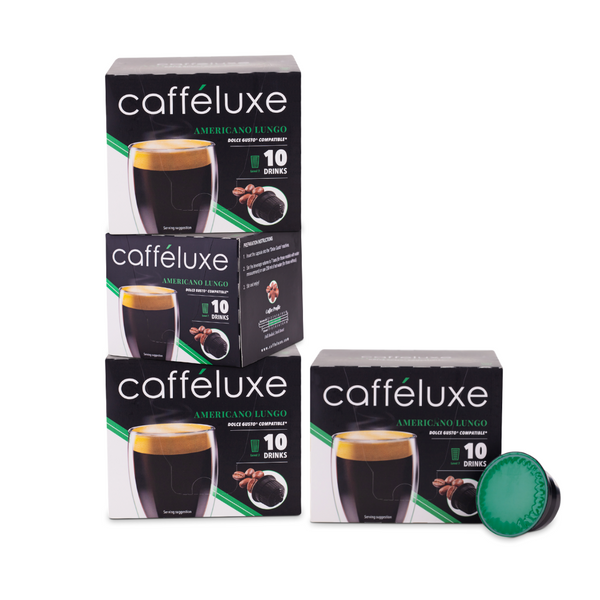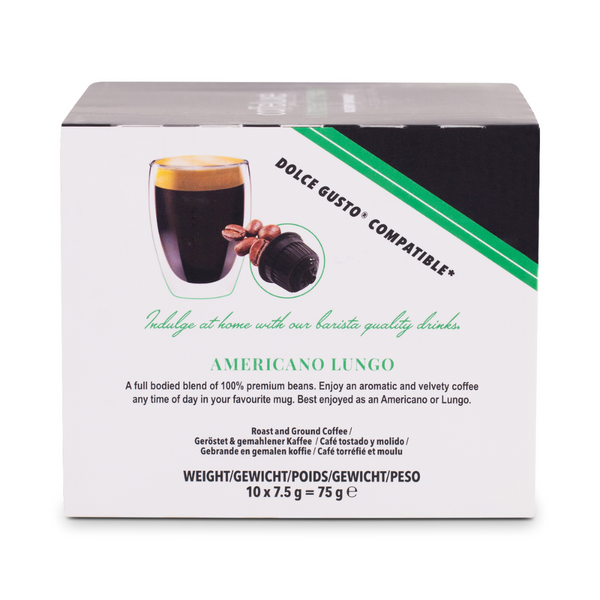 Cafféluxe Americano Lungo | 40 Coffee Capsules | Dolce Gusto® Compatible
R 249.00 R 300.00
Compatibility
Cafféluxe Dolce Gusto® Compatible Americano Lungo Coffee Capsules. Perfectly blended Lungo Americano that'll make the perfect Americano Lungo, first time, every time.

PRODUCT
4 x Boxes Americano Lungo | 40 Capsules 
*Images used are for visual representation only. Actual colour of capsules, products & hampers may vary from the images represented in mailers and on the website.
INSTRUCTIONS
Insert the Coffee capsule into the *Dolce Gusto machine.
Set the beverage volume to 7 bars (for those models with water measurement) or use 230ml of hot water (for those without).
Stir and enjoy!
COMPATIBILITY
- NESCAFÉ Dolce Gusto Genio 2, Esperta, Minime, Melody, Eclipse, Clrcolo, Drop, Stelia
- NESCAFÉ Dolce Gusto Oblo, Piccolo
- DELONGHI Dolce Gusto Infinissima Sas, Jovia
 
This product has no affiliation with nor is it produced by or recognised by Nescafe or Delonghi
NB : Dolce Gusto capsules are not compatible with any Nespresso machine