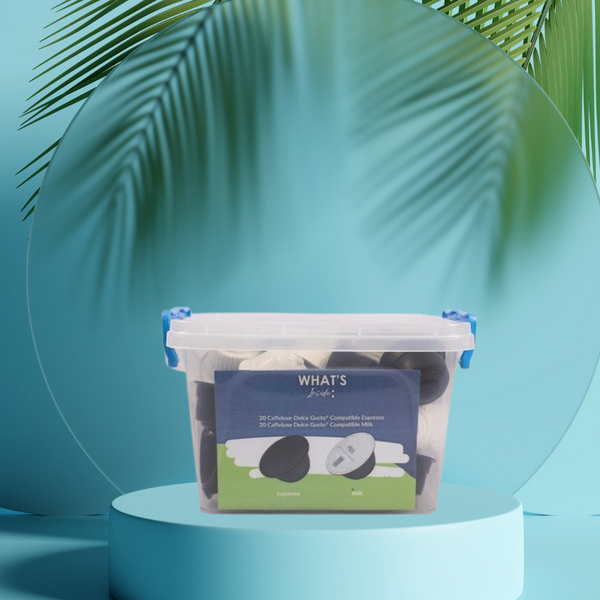 Caffeluxe Cappuccino | 40 Capsules | 20 Drinks | Containers Gone Wild | Dolce Gusto® Compatible
R 229.00
Compatibility
Caffeluxe introduces Containers Gone Wild limited edition reusable plastic containers filled with your favourite's!

Discover the essence of true espresso indulgence with our Espresso Cappuccino Coffee Capsules. Created using our premium espresso pods and complemented by the richness of frothy skimmed milk, this beverage is a symphony of flavours in every sip.
Elevate your coffee ritual and enjoy the exquisite flavours of our Espresso Cappuccino, designed to bring you moments of pure coffee bliss.

PRODUCT
Espresso | 20 Capsules
Skimmed Milk | 20 Capsules
Caffeluxe Espresso Dolce Gusto Compatible Coffee Capsules 
Our espresso pods provide a concentrated and robust coffee experience, with a deep, aromatic profile that awakens the senses

Caffeluxe Skimmed Milk Dolce Gusto Compatible Capsules 
Our silky smooth skimmed milk creates a velvety texture and adds a touch of creaminess to every sip.
 
*Images used are for visual representation only. Actual colour of capsules, products & hampers may vary from the images represented in mailers and on the website.

COMPATIBILITY
- NESCAFÉ Dolce Gusto Genio 2, Esperta, Minime, Melody, Eclipse, Clrcolo, Drop, Stelia
- NESCAFÉ Dolce Gusto Oblo, Piccolo
- DELONGHI Dolce Gusto Infinissima Sas, Jovia
 
This product has no affiliation with nor is it produced by or recognised by Nescafe or Delonghi
NB : Dolce Gusto capsules are not compatible with any Nespresso machine