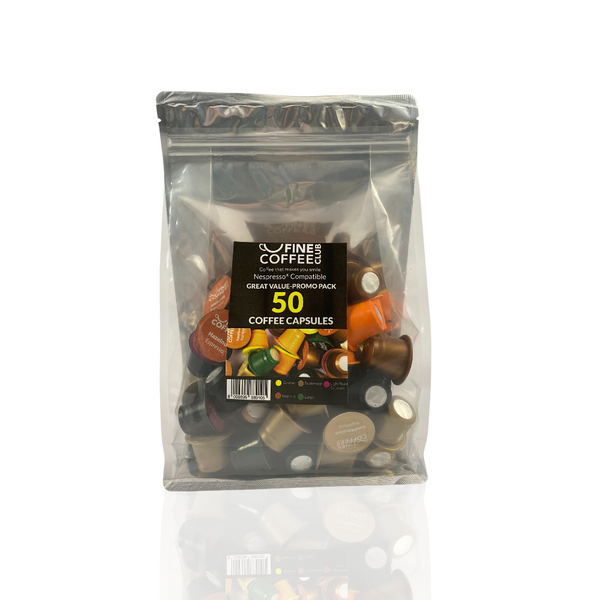 FCC Odd Bin Mixed Variety | 50 Coffee Capsules | Nespresso® Compatible
R 99.00 R 199.00
Compatibility
Introducing our exquisite range of coffee capsule variants, each carefully crafted to cater to the diverse tastes and preferences of coffee enthusiasts. Whether you're seeking a sweet indulgence or a bold wake-up call, our selection has something to satisfy every coffee craving. 

PRODUCT 
Caramel Delight | 10 Capsules
Guatemalan Excellence | 10 Capsules
Light Roast Espresso | 10 Capsules
Caramel Delight | 10 Capsuless
Hazelnut Harmony | 10 Capsules 
Lungo Elegance | 10 Capsules 
*Images used are for visual representation only. Actual colour of capsules, products & hampers may vary from the images represented in mailers and on the website.  
Caramel Delight  
Prepare to be enchanted by the luxurious notes of our Caramel coffee capsules. A harmonious blend of rich Arabica beans and velvety caramel essence, this variant offers a sweet and creamy coffee experience. It's the perfect treat for those moments when you crave a touch of sweetness in your cup.  
Guatemalan Excellence  
For coffee connoisseurs who appreciate the complexities of single-origin beans, our Guatemalan coffee capsules are a true delight. Sourced from the high-altitude regions of Guatemala, this variant boasts a bold and full-bodied flavor with hints of cocoa and spice, providing a taste of Central American coffee perfection.  
Light Roast Espresso  
Brighten your mornings with the invigorating aroma and gentle flavors of our Light Roast Espresso capsules. This blend combines the finest Arabica beans, roasted to perfection to bring out their natural nuances. Expect a smooth and balanced cup with delicate floral and fruity undertones.  
Hazelnut Harmony  
Elevate your coffee experience with the warm and inviting Hazelnut coffee capsules. These beans have been lovingly infused with the essence of roasted hazelnuts, creating a delightful fusion of nutty richness and premium coffee. It's a comforting choice for those seeking a cozy, aromatic sip.  
Lungo Elegance  
Experience the grandeur of European coffee culture with our Lungo coffee capsules. This elegant and long-pour coffee delivers a well-rounded, smooth taste with a hint of caramel sweetness. It's a versatile option, perfect for sipping leisurely or indulging in a quick pick-me-up.   
COMPATIBILITY
Caffeluxe coffee capsules have been tested & carefully manufactured to be fully compatible with the following Nespresso and Caffeluxe machines.

- Caffeluxe Duo, Verona, Sienna, Torino, Milano, Piccolo, Nuvo
- Nespresso U and U Milk
- Nespresso Inissia
- Nespresso Pixie and Pixie Clips
- Nespresso Lattissima, Lattissima Touch, Lattissima Pro
- Nespresso Essenza
- Nespresso CitiZ, Kmix, Maestria
- Nespresso Creatista Plus

 NB : Please ensure you check the compatibility of pods as stated in their manual. 
 
*Nespresso is a registered Trademark of Société des Produits Nestlé S.A.
This product has no affiliation with nor is it produced by or recognised by Nespresso.   
NB : Not compatible with Nespresso machines