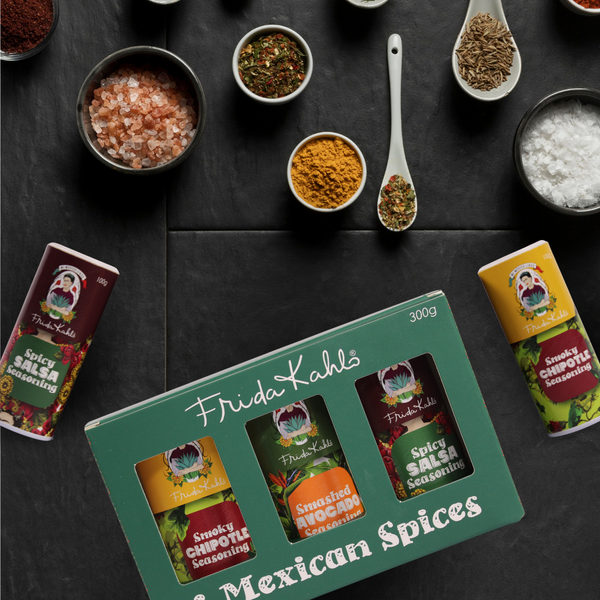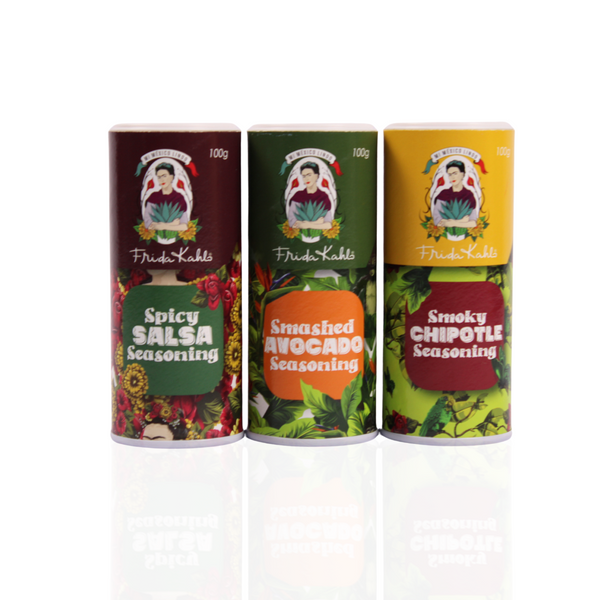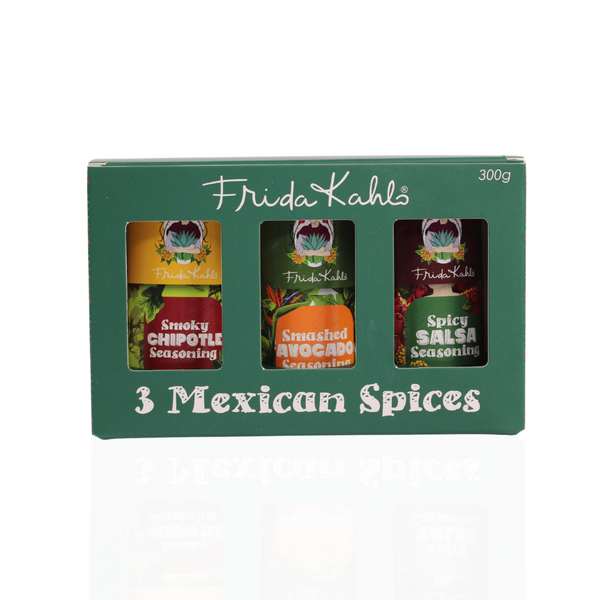 Frida Kahlo Spice Set | 3 Mexican Spices
R 149.00
Frida Kahlo Spice Set | 3 Mexican Spice Pack
 
Variants
Spicy Salsa Seasoning | 100g
Ingredients : Garlic, Green Bell Peppers , Red Bell Peppers, Parsley, Paprika, Chillies, Fenugreek, Cumin, Black Pepper, Salt, Onion Powder

Smashed Avocado Seasoning | 100g
Ingredients : Salt, Onion, Garlic, Paprika, Cayenne Pepper, Black Pepper, Turmeric

Smoky Chipotle Seasoning | 100g
Ingredients : Salt, Sage, Thyme, Coriander, Garlic, Paprika, Cayenne Pepper, Black Pepper
 
Frida: Introducing the new spicy salsa seasoning branded with the iconic Mexican artist, Frida Kahlo. This seasoning is perfect for those who love a little bit of heat and want to add a bold, flavorful kick to their dishes.
 
Frida Kahlo is known for her vibrant artwork and her love for Mexican culture. She embodied the spirit of Mexico and her influence can be felt around the world. With this in mind, we wanted to create a seasoning that would capture the essence of Frida Kahlo's bold and spicy personality.
 
Our spicy salsa seasoning is a blend of carefully selected spices and herbs, including chili powder, cumin, oregano, and garlic, all of which are commonly used in Mexican cuisine. We've added a special touch of heat to make sure that your taste buds are left tingling.
 
This seasoning is incredibly versatile and can be used on a variety of dishes. Whether you're making tacos, nachos, enchiladas, or even scrambled eggs, the spicy salsa seasoning will add an extra layer of flavor to your meal.
 
The packaging features a stunning portrait of Frida Kahlo, capturing her intense gaze and vibrant personality. The packaging is also designed to be sustainable, with eco-friendly materials that are both durable and reusable.
 
Overall, our spicy salsa seasoning branded with Frida Kahlo is the perfect addition to any kitchen. It's a bold, flavorful, and spicy seasoning that will make your taste buds dance with joy. So add a little bit of Frida to your next meal and enjoy the bold and spicy flavor that she embodies.