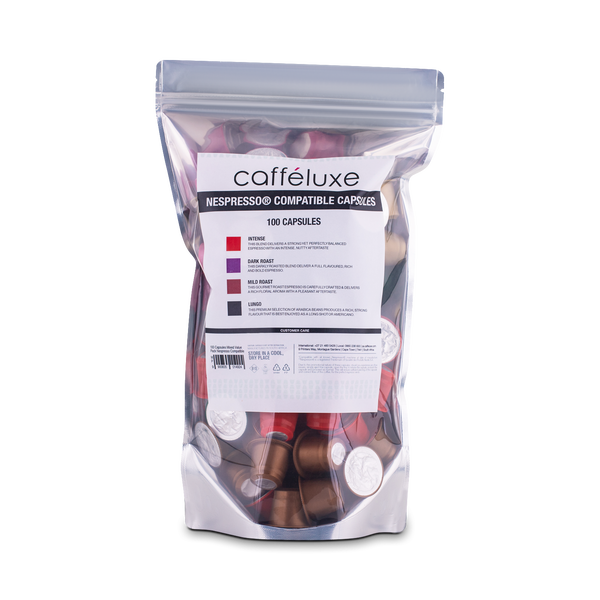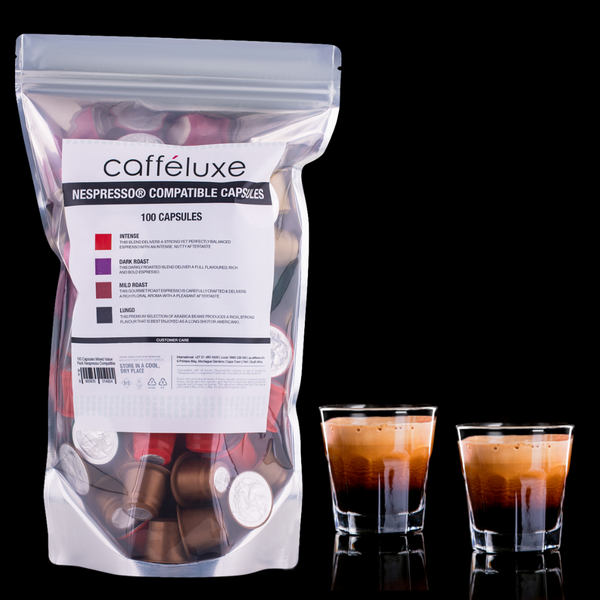 Cafféluxe Signature Mixed Variety | 100 Coffee Capsules | Nespresso® Compatible
R 429.00
Compatibility
In the Cafféluxe Nespresso® Compatible Signature Range Mix Value Pack you will receive a mixture of our finest coffees ranging from Medium to Dark Roasts.
Please note : Value Pack does not contain decaf capsules.

PRODUCT
100 x Signature Range Capsules

Pack will be made up of the following variants to make up the 100 capsules 
Gourmet Roast Espresso
Medium Roast Espresso
Dark Roast Espresso
Lungo Dark Roast
Intense Roast Espresso

*Images used are for visual representation only. Actual colour of capsules, products & hampers may vary from the images represented in mailers and on the website.
 
COMPATIBILITY
Caffeluxe coffee capsules have been tested & carefully manufactured to be fully compatible with the following Nespresso and Caffeluxe machines.

- Caffeluxe Duo, Verona, Sienna, Torino, Milano, Piccolo, Nuvo
- Nespresso U and U Milk
- Nespresso Inissia
- Nespresso Pixie and Pixie Clips
- Nespresso Lattissima, Lattissima Touch, Lattissima Pro
- Nespresso Essenza
- Nespresso CitiZ, Kmix, Maestria
- Nespresso Creatista Plus

 NB : Please ensure you check the compatibility of pods as stated in their manual. 
 
*Nespresso is a registered Trademark of Société des Produits Nestlé S.A.
This product has no affiliation with nor is it produced by or recognised by Nespresso.