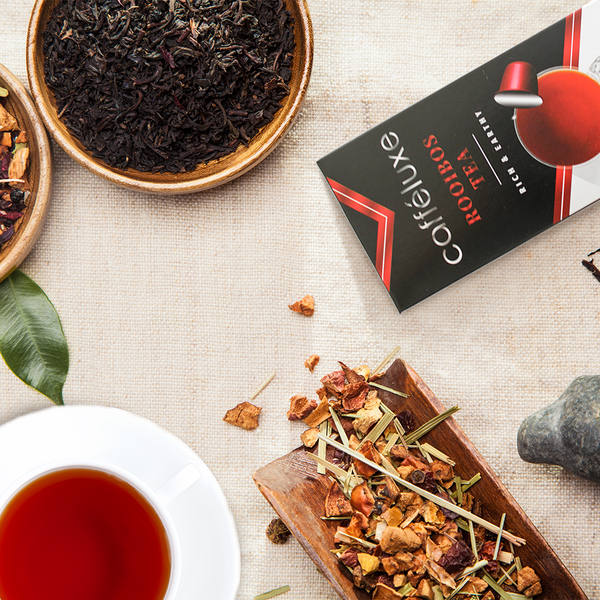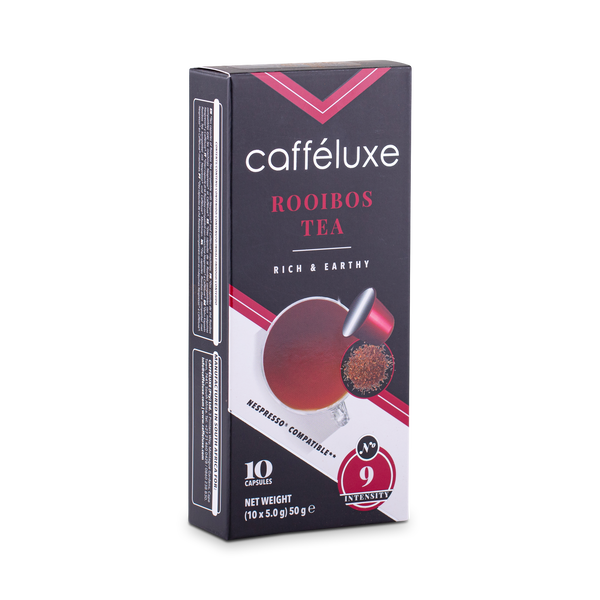 Cafféluxe Signature Original Rooibos | 10 Tea Capsules | Nespresso® Compatible
R 49.00
Compatibility
100% pure rooibos tea designed to be prepared and enjoyed just like coffee. Naturally caffeine-free and rich in powerful antioxidants, red espresso® is a great alternative to coffee and an excellent choice if you are looking to cut down on caffeine, love tea, care about your health, or are looking for deliciously healthy drinks that the whole family can enjoy. With Cafféluxe Rooibos capsules, one is able to make a range of hot, cold and bold drinks, including red cappuccinos, red lattes, iced teas, smoothies and shakes.

PRODUCT
1 x Original Rooibos Tea | 10 Capsules

HEALTH BENEFITS
5 x more anti-oxidants than green tea

Calming Effect
Boost Immune System 
Detoxing Ability
*Images used are for visual representation only. Actual colour of capsules, products & hampers may vary from the images represented in mailers and on the website.
COMPATIBILITY
Caffeluxe coffee capsules have been tested & carefully manufactured to be fully compatible with the following Nespresso and Caffeluxe machines.

- Caffeluxe Duo, Verona, Sienna, Torino, Milano, Piccolo, Nuvo
- Nespresso U and U Milk
- Nespresso Inissia
- Nespresso Pixie and Pixie Clips
- Nespresso Lattissima, Lattissima Touch, Lattissima Pro
- Nespresso Essenza
- Nespresso CitiZ, Kmix, Maestria
- Nespresso Creatista Plus

 NB : Please ensure you check the compatibility of pods as stated in their manual. 
 
*Nespresso is a registered Trademark of Société des Produits Nestlé S.A.
This product has no affiliation with nor is it produced by or recognised by Nespresso.